Home > Products > Assortments > Fireworks Pail
Fireworks Pail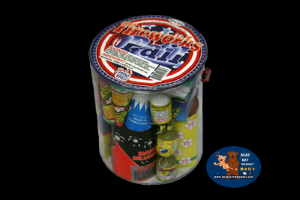 Description
Firework Assortments
Safe and sane assortment containing small and medium sized fountains, poppers and more!
Made By: Pyro
Bear Kat Fireworks
Sorry - No Movie Listed
Bear Kat Fireworks has a large variety of fireworks from 200 gram to 500 gram fountains, firework novelties suchas party poppers, snakes, jumping jacks, flowers and much more. We offer reasonable pricing and a guarantee of our products.
NOTICE: Knowing the law pertaining to fireworks in your city and or county in Minnesota including noise ordinances and acceptable areas for fireworks use is very important. Check local and state laws before enjoying your Minnesota fireworks.